That's sounds really futuristic doesn't it? Magical Girl. I.E. Well. I made it up HOWEVER, a new unofficial magical girl personification for Internet Explorer does exist and let me tell you, it's a FUCKING WIN.
Meet Inori, Microsoft newest mascot. Unveiled just for the Anime Festival Asia (AFA) 2013, and we won't be seeing her in the States, she was a popular attraction to those who got to meet her for the first time.  Developed in July by the good people at Collateral Damage Studios, Inori not only has a fresh fandom slowly building behind her, but she kicks ass too.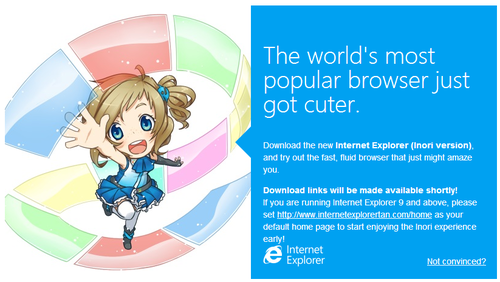 That's right. Microsoft went Anime on our asses (not the first time, but whatever, can't have enough Anime) and the shit might  just work because even I, a Google Chrome affecianado and hater of all things Internet Explorer, contemplated redownloading IE off the strength of Inori alone. Don't believe me when I say this magical girl redux is a brilliant, if not the most brilliant marketing campaign Microsoft has ever come up with?
Shit, she has her own FACEBOOK page.
Not only is this brilliant, Microsoft took the time to poke fun at themselves.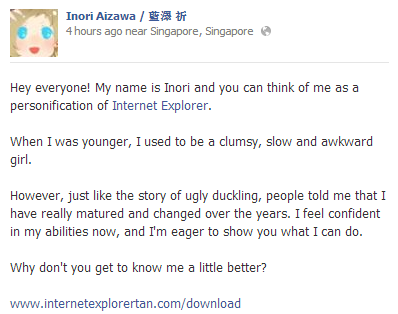 Which means they knew we hated it. So they've gotten leaner, stronger, and way cuter. Check out the clip of Inori that was showcased at the 2013 Anime Festival Asia.