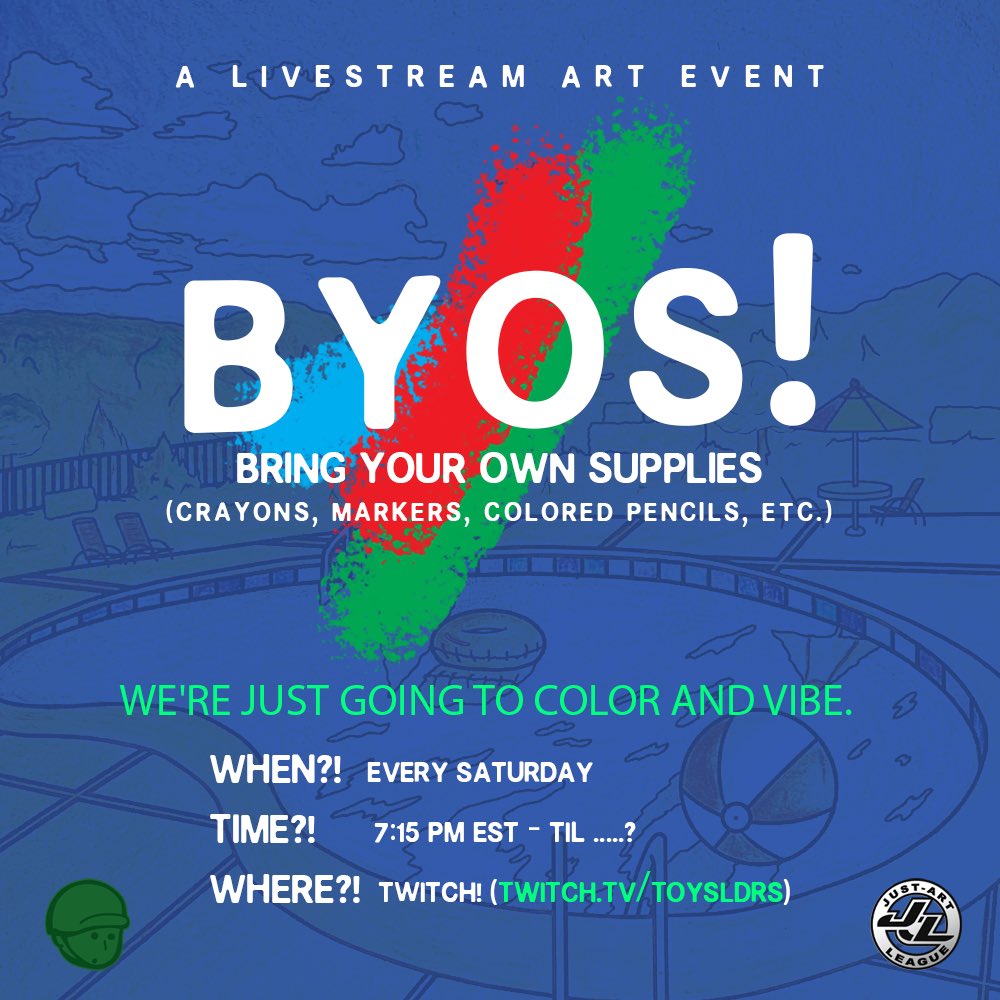 Bring Your Own Supplies!
Time: Every Saturday @ 7:15pm EST
Where: http://www.Twitch.Tv/ToySldrs
You know what? I love community. Both the show and the being apart of one. The camaraderie of it all. And with art being such a large influence on me, (this very site you're reading this on for example), I've always wanted to start something up and make a space for other creatives to just gather and chill. There's no pressure to create, collab or compete… and your skill level doesn't matter. There is something to be said for being around other like minded individuals and finding your 'tribe'. And since finding it can oftentimes be a long process – I skipped that part and decided to just build my own.
And you're welcomed to be apart of it. Starting today (Saturday, 7:15pm EST), I'll be going LIVE on Twitch each weekend to either color, draw, paint, build something etc and you are invited to pull up to talk while doing your own thing. With the majority of the world still inside and probably lacking any real communication, I hope to make this a chill way to just decompress from the world's insanity for a bit. Check out some of the work that got posted!
https://t.co/0Nntj3cing pic.twitter.com/Y2Mo5Klbj4

— ᒍEᒪᒪYᗷEᒪᒪYᗷᗩᗰ (@thinmint_1984) July 12, 2020
💪🏾🖍🔥 pic.twitter.com/8WD3whWLSh

— Good Job, Lurry. 🥭 (@onefiftyone) July 12, 2020
After coloring a galaxy failed, I drew a nerd 🤣 pic.twitter.com/J3a1C6dwqt

— ✨Jubilation Lee✨ (@TanaIsBananas) July 12, 2020
Finished mine 🖍 pic.twitter.com/strNw83rti

— Toy Sldrs (@ToySldrs) July 13, 2020
If you're wondering where to pick up a coloring book to join us, you can grab mine. [ Purchase a Copy on Amazon by Clicking Here ] However, there's no obligation to do so. You can use any book you want or currently own. Or bring a pad and draw / write. It's all up to you. As a BONUS, with the help of @TanaIsBananas, we also have a themed drink for the future live events. Grab the mix below to "Sam's Secret Stuff" (21 and over only, please)
Come create with us!