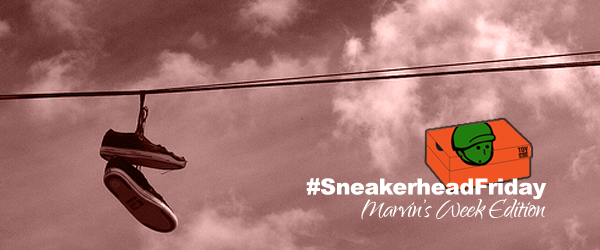 Sneakerhead Friday: #MarvinsWeek Edition
Dennis…
July 28th, 2007. I waited all month for that day. Not only would it be my first time going to a Rock the Bells concert, but it would also be the first time I've gotten to see my favorite rap group of all time, The Wu-Tang Clan. To celebrate this momentous occasion, I felt it was only right to wear my favorite pair of sneakers, the Nike SB "Send Helps". I must also note, this was my first outdoors show, so I certainly wasn't prepared for what was to come.

Rain. Lots of it.

No matter, rain alone wasn't enough to cause much need for worry. By the time Wu came out, my night was set. They ran through all the classics and life was good. Real good. Then Rage came out. The crowd went nuts. Mosh Pits everywhere. EVERYWHERE. To make matters worse, it started to POUR. Do you know what happens when you mix mosh pits, rain and loud music on green grass?

Sigh….mud. Lots of motherfucking mud. After 'Guerrilla Radio', I desperately tried to make my way from the front of the crowd all the way towards the back so I could get on one of the Charter buses and head back home. Every single step I took towards that bus, I could feel my heart drop a little lower. I refused to look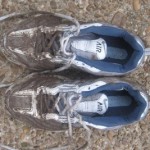 down. I wasn't ready to accept it. I couldn't. Even as I looked downed at the kicks of many of the others who attended the show with me, I kept a blind eye towards my own. The feeling was there. That nauseating feeling when you know you've made a terrible choice and its all coming back to haunt you.

It wasn't until I got off the train and was walking home did I look down and saw my shoes. My babies, my favorite pair of sneakers EVER now looked like this. Never felt so sick. All I could do was go straight to sleep and not think about it. Took me nearly 4 years to find another pair like it. Even now long after replacing them, I still have visions from that day. That terrible day. 🙁
Nia…
I had been spending weekends with my then boyfriend in Connecticut for months, before I made the crucial and well thought out decision to move 90% of my sneaker collection, mainly the kicks I rarely wore or the cherished pairs to his place. My logic was that my house in Brooklyn, although safe and where my kicks had resided their entire life, would be more
likely to be robbed in Brooklyn than at my boyfriend's apartment in Hartford. After months of consideration, as well as lack of space, I packed up 42 pairs of sneakers and transported them safely to CT.
I'll say of all the dumb things I've done since I was born this was definitely top 3. The apartment wasn't robbed but he did decide to take an "impromptu break" from school which resulted in our things being put in storage. I was cool with this because I figured they were safe. Right? You would think being in a locked storage facility they can't be harmed, can't go missing or stolen. RIGHT?!?! What I did not know was the bill wasn't being paid. And I only found out because I wanted to wear my original release black and red Jordan XI, that my kicks along with whatever else was in there was to be sold at an auction. I didn't have enough money to pay the balance or even buy back my own kicks at the auction. I cried, yes literally shed tears when I found out.
My life really hasn't been the same since. Was the loss of these kicks a mitigating factor in our break up? I'll fess up and
say it definitely contributed to the decision. I mean I loss 42 pairs of kicks, I had to fall back. I've considered buying the retros of some of my kicks but who knows if Nike plans on re-releasing all those weird color ways for the XIs. I'm really heartbroken I will not lie. I definitely retired from the sneaker game because of it. And now I just cry when I see release dates or my friends with kicks.
Sometimes I just stare at pics of my old collection and reminisce about the good times we had in the Mowab Air Max 95s, the parties we attended in the Hexalite Reebok pumps and Jordan XVs the chicks and guys I made jealous with my Laney Vs. It's been 3 years but I cried the other day when I saw somebody with a pair of Adidas Easter Egg Grace Mids on.